January 8, 2019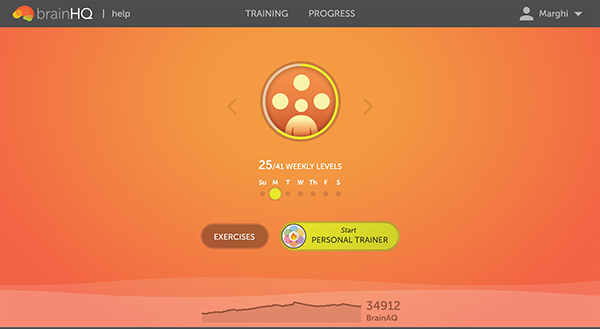 One of our goals here at Posit Science is to make BrainHQ the best brain training program in the world. To do that, we have worked with hundreds of scientists, making sure our scientific foundation, design, and research is top notch. But there's another group of people that's equally important to listen to: people who use BrainHQ.
We have spent time over the past year really trying to understand how people use BrainHQ: what they love, what they struggle with, and where we needed to make changes. We sent out surveys and conducted phone interviews with people who have used the program a lot, to get the valuable opinions of experienced users. We invited people who have—and have never—seen BrainHQ before into the office to watch them react to the program and see what they think. We tracked why people contacted our Customer Delight team, and found patterns in the challenges they encountered.
The result of all this work (and more) is a new and improved version of BrainHQ, just released this week!
So what did we learn, and what did we change?
We found that most of our users fall into two groups: people who want BrainHQ to pick the best training exercises for them each session, and people who want to pick the training exercises themselves based on their personal preferences and goals. A lot of the major changes were made to meet the needs of these two groups.
On the training homepage, we simplified the choices so that it was easy to see how to take each path: choose exercises yourself, or let BrainHQ choose for you with the personal trainer. We moved the training courses (Focus on High Achievement, Focus on Auditory Processing, and so on) into the personal trainer, so that if you want BrainHQ to assign exercises that target your specific cognitive goal, it will do so.
Within the personal trainer, we made several improvements to better meet the needs of people who like that training option. One piece of feedback we often heard was that it could be frustrating to work in exercises for a set amount of time: people wanted to move on if they were excelling, and keep practicing if they needed more work. So we changed how you move through the exercises from time-based to performance-based. Now, the better you do the quicker you move on to a new exercise. You just have to earn 10 stars to move up, which can be done in as little as two repeats if you are an ace at the exercise, but will take more work if you still have room to improve at the exercise. This change isn't just something users wanted: we also think it's an improvement from a scientific perspective. The goal is to keep people training at "threshold," a level that challenges the brain.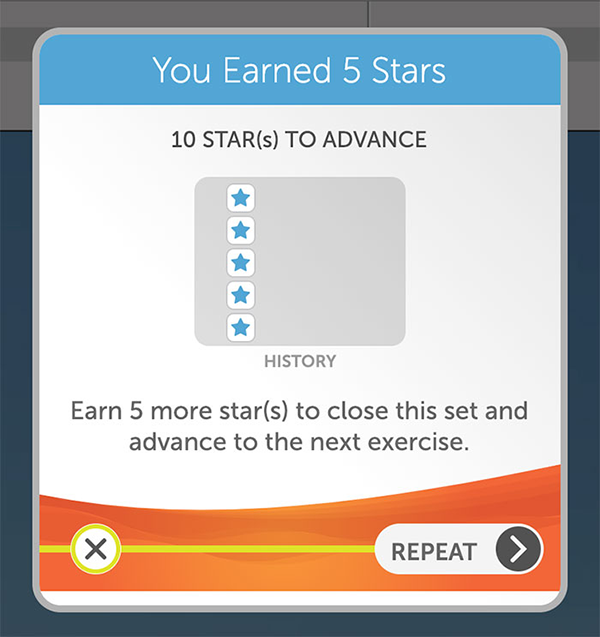 One other note about the personal trainer: in the new version, your weekly training goal is automatically set at 24 levels. We've divided those into three "sessions" of 8 levels each. That doesn't mean you have to do a session all at one time, or that you're limited to just one session at a time. You can change your weekly goal, or just adjust your training according to your schedule!
For people who like to choose exercises themselves, we've made changes as well. From these users, we heard that they like a lot of detail on their performance so that they can make informed choices about what to do next. So we've made sure to make raw scores easily available, and have added a graph that shows how you have performed each time you repeated an exercise set. We've found that these users are typically trying to achieve the highest score they can in the exercise, and we wanted to help them know how to do that!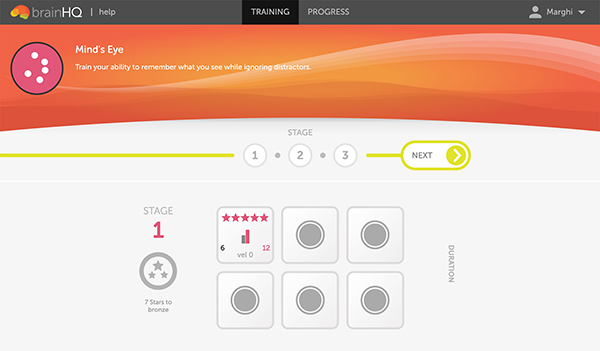 If you've spent some time in BrainHQ before now, you'll likely notice many other subtle differences between the two. In general, those changes were made to make BrainHQ easier to use, improve the overall "look," and help users understand their progress and feel rewarded.
We hope these changes will help people get the most out of BrainHQ. And while we've taken these steps to improve the BrainHQ experience, we know there's always room for improvement—so please, keep the feedback coming!
PS: These changes will also be coming to our mobile apps soon!