May 7, 2020
We've got some good news about percentiles in BrainHQ! There are two parts to this:
We have adjusted the data on how percentiles calculated to make them more relevant, which means you may see some changes in your percentiles and your stars.
And we are adding back a popular feature that shows how your percentile in each category (Attention, Brain Speed, Memory, Intelligence, People Skills, and Navigation) has improved since you began BrainHQ!
As a refresher (if you need one), percentiles give you insight into how your performance in BrainHQ compares to other people your age. The scale is from 1 to 99. The number indicates what percentage of BrainHQ users your score is higher than. Remember, these scores are not like letter grades in school. If your percentile score is 50, it doesn't mean you failed the test – it means you are scoring better than 50% of the people your age who have used BrainHQ! Learn all about where to find and how to read percentiles here.
One thing to keep in mind is that your percentile score is not absolute; it depends on who you are compared to. About once a year, one of our scientists reviews how percentiles are calculated in BrainHQ. As more people use BrainHQ, there are occasionally new data sets to include. The goal is to make the percentile scores more accurate! In this update, what we've done is changed the pool of people so that the percentiles are all age-adjusted. You are now compared to the people who are the same age as you (or who have told us that they are) for all your percentiles. That makes your percentile more reflective of your performance relative to the appropriate comparison group.
In several of the newer exercises (Auditory Ace, Mind's Eye, Card Shark, Freeze Frame, and Optic Flow) we used to have limited data—and now we have more. We have updated our data for percentile comparisons for these exercises, too, making them more accurate.
For these reasons, you may see some changes to your percentiles with this update. Since star performance (1-5 stars per exercise) are related to percentile, your star rating may change a bit, too, especially for Auditory Ace, Mind's Eye, Card Shark, Freeze Frame, and Optic Flow. Your total cumulative star count will stay the same, though!
Pretty much everybody has room to improve in their percentile scores—and it's rewarding to see that improvement as it grows! That's why we've added the feature to see how your percentile has changed in each BrainHQ category since you began using the program. It will look something like this now: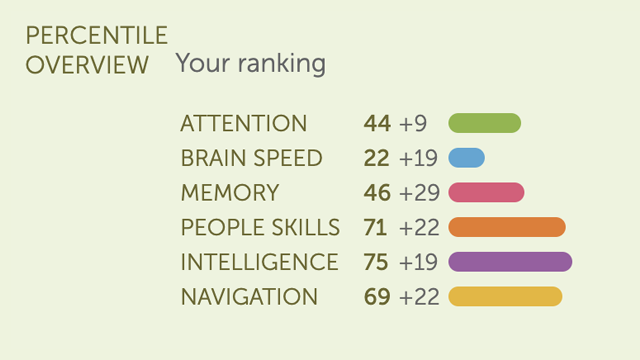 In this person's case, they are currently in the 44th percentile in the Attention category—9 percentile points higher than they began (meaning they began in the 35th percentile). That's a real improvement!
Again, if you'd like to review how to see and interpret your percentiles in full detail, check out this article from our support site.